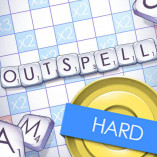 Outspell
Outspell is a popular online word puzzle game. You can play while learning, practice English writing and spelling skills with this fun game. You will move the letters to squares on the board. For each correct answer, you will get a certain number of points. The first word must use the central square of the game. Blue squares for letter rewards and red squares for word rewards. Try to earn as many points as possible. If you find it interesting, don't forget to join our fun and interesting word puzzles!
How To Play Outspell
To change letters, use the mouse (computer) or touch the screen (phone).