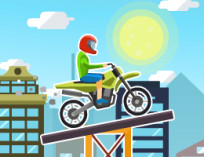 Moto Xtreme CS
It's time to prove your talent to others in Moto Xtreme CS. Get ready to show off your motorcycle driving skills and become the most talented racer in the city.
This is an extreme motorcycle racing game full of adventure. Bringing players the most realistic experience when participating in motorbike driving. You will participate in a motorbike competition on construction sites with many dangerous obstacles at a record height. The goal of this game is to complete each level by reaching the finish line through various obstacles. The game offers very simple gameplay and amazing levels. You will have to overcome more than 40 levels with different challenges. The levels are quite difficult so a small mistake can cause you to lose. So be careful and use your motorcycle driving skills to pass the levels safely. You can accelerate, perform jumps, and do various tricks on the motorcycle. Prove to us that you are a talented motorcyclist today. Good luck
If you love the game, don't forget to visit our website to experience many other interesting games. Join now and don't miss out.
How To Play Moto Xtreme CS
Use the arrow keys to control the motorcycle.
Related games: