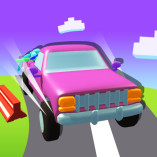 Hillside Drive Master
Hillside Drive Master is an exciting off-road driving game in which you will drive a car carrying stick figures safely to the top of a mountain. In this game, you will drive a truck with stacked stick figures and your task is to carry the stick figures through dangerous hilly roads to reach the finish line safely. full. Along the way, coins will appear scattered throughout the path. In addition to the task of carrying the stickmen to the finish line safely, you also have to collect coins to increase your score. In addition, on the way there will be many different obstacles blocking your way. So drive carefully, control your speed and skillfully control the car to safely avoid obstacles. Always remember not to drop the stick figures or collide with obstacles on the way, otherwise your mission will fail. Concentration and sharp reflexes will be the key to helping you conquer each level in this game.
Also, if you love racing games with more difficult levels, you can try some games like Dirt Bike MotoCross, Traffic Zone Car Racer,... Join today to become an excellent racer the sharpest
How To Play Hillside Drive Master
Hold down the mouse to control the car carrying the stickmen to the finish line safely.