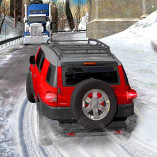 Heavy Jeep Winter Driving
Heavy Jeep Winter Driving is a challenging winter driving game in which you will drive the vehicle across many different terrains, collecting attractive rewards. Winter has come, white snow covers the roads, your challenge will be driving on very slippery snow-covered roads. There will be two game modes: career mode and free mode.
Career mode: You have to complete different missions within the given time or face some difficult challenges on racing tracks.
Free mode: you can enjoy snowy roads and beautiful scenery with pine trees and freely drive around as long as you like.
The race tracks will be filled with gifts, prize money, medals, and gasoline. You can collect them and use the newly collected coins to unlock new and better cars. Now, hold the steering wheel tightly, step on the gas pedal, and enjoy the winter cold right away. I Hope you have fun!
How To Play Heavy Jeep Winter Driving
Use WASD keys or arrow keys to drive.
Press the spacebar to brake the car.
Press C to observe the camera.