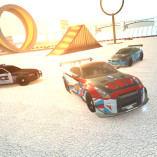 GTR Drift Fever
GTR Drift Fever is a thrilling car racing game where you can experience realistic racing feelings and perform a series of beautiful drifting skills. You will choose one of four different maps to start a fierce race with 15 unique car models that bring players many surprises. Test your driving skills on four maps with six unique locations to practice your drifting skills. Your goal in this game is to perform the best drift and finish, achieving the highest score. To achieve the highest score, perform dangerous and beautiful drifts, but pay attention to safety. A police car is chasing you, so don't let the police car get in your way. Step on the accelerator and get away from the police car, performing a series of your ultimate drifting skills in this adventurous racing game. Join the game now and perform beautiful, impressive drifts.
How To Play GTR Drift Fever
You can use the arrow keys or WASD keys to drive.
Press C to switch cameras.
Press B to look back.
Press the F key for Nitrous
Use the mouse to look around.