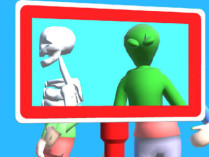 Find Alien 3D
Find Alien 3D is a game that hunts down alien disguised as ordinary people through search engines to detect and destroy them.
Aliens are plotting to invade the earth. So they disguised themselves as normal people to come down to earth to carry out the invasion plot. Because of this, your most important and urgent task is to use the identification scanner and detect the aliens they are impersonating to prevent and destroy their plot to invade the earth at the same time. protect the peace of mankind. You will have to use all your skills, agent instincts, and unique equipment, such as scanners and laser pistols, to destroy the impostors. Join the game now and perform the noble mission of saving the earth right away. Good luck
How To Play Find Alien 3D
You will use the left mouse and screen manipulation to find the impostors, then use a laser gun to kill them.