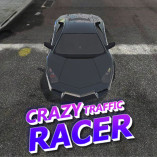 Crazy Traffic Racer
Crazy Traffic Racer is an innovative car driving simulation game that will push your driving skills to the next level and reach the highest level. In it, you will experience the authentic feeling of driving, immersing yourself in a world filled with heart-stopping moments and breathtaking scenery. With intuitive controls and responsive gameplay, you'll feel every turn and bump as if you were behind the wheel, becoming a true racer. Don't hesitate to join this exciting racing game today.
In addition, you can also challenge yourself with some other interesting and exciting racing games with higher difficulty, such as Impossible Track Car Stunt, Moto Madness,... Join now and become an excellent racer.
How To Play Crazy Traffic Racer
You can use the WASD keys or arrow keys to control the car.