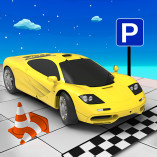 Car Parking Pro
Car Parking Pro is a parking simulation game that challenges your driving skills, reaction and professionalism in driving other cars. Your challenge is to overcome the obstacles and reach the finish line safely. To start the game, you will get to choose your favorite car and start taking on the driving challenge. There are many levels in the game; Each level will have a different difficulty, so pay attention and dodge the obstacles to complete the levels in the game safely! If you hit an obstacle in the road or drive down a cliff, your challenge will fail and you will start the game again.
To complete each level in the game, you must focus on observing, controlling the speed, throttle, and braking at the right time so as not to crash into the obstacles on the road or fall into the abyss. Are you ready to take on this exciting challenge? Join now and conquer the difficult challenges in the game. I hope you have fun!
How To Play Car Parking Pro
Use the A and D keys to control the car to turn left and right.
Hold down the S key to accelerate.
Press and hold the W key to brake the car.