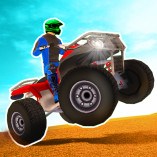 ATV Ultimate OffRoad
ATV Ultimate OffRoad is an ATV sports racing game that allows you to experience many thrills with many different modes and features in the game. This game has 3 different game modes you can try: free driving, racing and time attack. In these modes, the player can choose to play single player or two player.
In free driving mode, it allows you to explore the map freely. You can drive anywhere you want in the cityscape, but make sure not to hit any obstacles.
In Racing mode, You will compete with virtual players on various maps to win races. Players must win races in one region to unlock the next.
In Time Attack mode, You must try to win a race or drive as far as possible before time runs out. You have to complete the track before time runs out through 10 different levels.
Join now and become the best racer in this game. If you find it interesting, don't forget to recommend this game to your friends! I hope you have fun!
How To Play ATV Ultimate OffRoad
Player 1:
Use WASD keys to drive.
Press L to nitro.
Press C to change the camera.
Press R to restart.
Player 2:
Press the arrow keys to drive.
Press M to nitro.
Press K to use the camera.
Press P to restart.